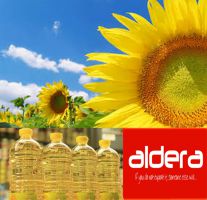 TURKISH SUNFLOWER EXPORTER, ALDERA DIS TICARET VE DANISMANLIK LTD. STI.

Healthy, natural sunflower oil is produced from oil type sunflower seeds. Sunflower oil is light in taste and appearance and supplies more Vitamin E than any other vegetable oil. It is a combination of monounsaturated and polyunsaturated fats with low saturated fat levels.
The versatility of this healthy oil is recognized by cooks internationally. Sunflower oil is valued for its light taste, frying performance and health benefits.
Sunflower oil is a monounsaturated (MUFA)/polyunsaturated (PUFA) mixture of mostly oleic acid (omega-9)-linoleic acid (omega-6) group of oils. The oil content of the seed ranges from 22 to 36% (average, 28%): the kernel contains 45–55% oil. The expressed oil is of light amber color with a mild and pleasant flavor; refined oil is pale yellow.
Do you need Turkish refined sunflower oil at good quality or are you looking for cheaper products from other countries?
Let us know your requirements and give you our best quotation.
Our export team is specialized in supplying refined or unrefined sunflower oil from all around the world.
ALDERA DIS TICARET VE DANISMANLIK LTD. STI. is also exporting sunflower seeds in different types. We have pleasure to contact you for your any requirements of sunflower oil or seeds.
| | |
| --- | --- |
| For commercial purposes, sunflower seeds are usually classified by the pattern on their husks. If the husk is solid black, the seeds are called black oil sunflower seeds. The crops may be referred to as oilseed sunflower crops. These seeds are usually pressed to extract their oil. Striped sunflower seeds are primarily used for food; as a result, they may be called confectionery sunflower seeds. | |