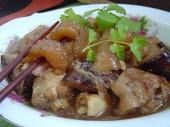 Sea Cucumber Exporter : ALDERA
After the first export of Aegean Sea Cucumbers to China, Aldera Dış Ticaret ve Danışmanlık Ltd. Şti. is preparing to make contract for regular orders. 'Our second mission is to export our sea cucumbers to Japan and Korea.' said Ozan Kaleli.
The Asian market for sea cucumber is estimated to be US$60 million. The dried form account for 95% of the sea cucumber traded annually in China, Hong Kong, Singapore, Taiwan, Malaysia, Korea, and Japan.
Today, sea cucumber is a multi-million dollar industry. In the United States, price rate of dried sea cucumber is pegged at US$180 to US$250 per kilogram. The Philippines is home to 100 species of sea cucumbers, of which 31 are commercially important.
"There is a big export market for sea cucumbers particularly for Hong Kong, China, Korea and Japan," says Dr. Rafael D. Guerrero III, former executive director of the Laguna-based Philippine Council for Aquatic and Marine Research and Development (PCAMRD).
Aside from food, there's also an emerging market for the use of sea cucumbers in the pharmaceutical and cosmetic industries. Common medicinal uses of sea cucumber in China include treating: weakness, impotence, debility of the aged, constipation due to intestinal dryness, and frequent urination.
As demand continues to escalate, the supply dwindles – to the extent that their population is now in jeopardy.